DASH 8 VIDEO TRAINING - HALF PRICE SALE!
If you'd like to take your mastery of Majestic Software's impressive Dash 8 Q400 to another level, the Airline2Sim package includes over eight hours of HD video training dedicated specifically to this superb aircraft.
With a current Dash 8 Q400 pilot from a major UK airline in the training pilot seat, you'll learn every switch and button on the flight deck and understand how to fly the aircraft with full airline procedures, checklists and flows.
Part 1: Pilot fact file – Meet your training Captain.
Part 2: Flight deck tour – A complete tour of the Q400 flight deck, including the auto-flight system, overhead panel, engine controls and fire protection.
Part 3: Initial base training – Fly an empty aircraft with no passengers from a quiet airfield for a number of take-offs and landings so you can get used to dealing with the various flows and checklists involved. Learn how to start the engines, taxi safely, understand charts and how to tune navigation aids.
Part 4: Initial base training – Perform four take-offs and landings with a variety of different flap configurations and you'll appreciate the full extent of the pilot's workload in this fast-moving environment.
Part 5: Planning and loading – Take care of flight planning in FSX and ensure you've got enough fuel to load your Q400 correctly. Detailed procedures demonstrate how to to prepare a full flight briefing.
Part 6: Crew room briefing – Your training pilot talks you through a detailed briefing for your first flight sector, including weather, NOTAMS, fuel requirements and possible diversion airports in case of any problems.
Part 7: Line flight 1: IOM-BHX flight deck set-up – Setting up the flight deck for the first of four planned sectors around the British Isles: flight deck safety check, flight deck preparation, FMS set-up, navaid tuning, full take-off briefing and autopilot set-up.
Part 8: Line flight 1: IOM-BHX – Push back, start up and take off. You'll see how to fly the noise abatement procedure, how crews communicate with the cabin, and get some hints on how to give your passengers a smooth ride! Find out all you need to know about descent planning and set the Q400 up for an ILS arrival into Birmingham airport.

Part 9: Line flight 2 : BHX-GCI – A quick turnaround at Birmingham International as you set the aircraft up for the next sector, a 55-minute hop to Guernsey. Watch the crew set up the SID for the departure and run the loading and fuel figures for a new traffic load. Learn more advanced features of the FMS and navigation radios, how to fly the Q400 flat out and perform a challenging LOC DME approach into the short 1400m runway!

Part 10: Line flight 3: GCI-LGW – With two sectors complete, head back across the English Channel to London Gatwick and a complicated STAR arrival . Learn how to set up different level-offs in the FMS, work out a descent rate in your head, and deal with a nasty surprise on the ILS thanks to a technical malfunction!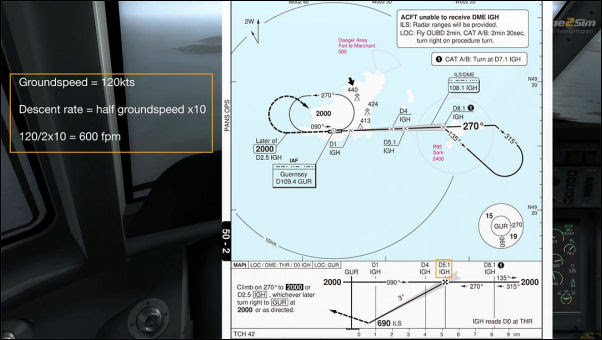 See the Just Flight website for all the details!