MERRY CHRISTMAS!
In a few days it will be Christmas, shortly afterwards the year 2021 will end. We would like to take this opportunity to thank you all for your loyalty! We look back on a successful and eventful year: The cooperative hidden object detective game MicroMacro: Crime City from our publishing partner Edition Spielwiese, which we distribute exclusively, has won numerous national and international game awards such as Game of the Year, two Golden Geek Awards and the game hit with friends, the Beeple Award and and and. In addition, for the first time ever the "blue pawn", the children's game of the year with Dragomino, went to us in Friedberg, Ghost Adventure was innoSPIEL and Everdellwon the Graf Ludo game graphics award. We were also able to play with you on community day, at three CONspiracys and of course during SPIEL on site and digitally.
Unfortunately, 2021 didn't mean so well to everyone. Therefore, it was and is particularly important to us to support all those who have been hard hit by the ongoing corona pandemic and the flood disaster in North Rhine-Westphalia and Rhineland-Palatinate this year with various charity and donation campaigns. We would like to especially thank everyone who supported us!
Before we meet again in 2022, we wish you a Merry Christmas, some quiet, contemplative days with your loved ones and a Happy New Year!
Stay healthy
Your Pegasus Games Team
MICROMACRO MERCH + CHARITY-AKTION
In our merchandise shop you can get numerous different items with cool game motifs. From now on there are also new products in the MicroMacro: Crime City design . For example t-shirts, hoodies, mugs and much more.
In addition, we and our partner Edition Spielwiese would like to use the success of the game to do good. Not least because of the corona pandemic, which has now lasted almost two years, the numbers of domestic violence have risen significantly. That is why we have jointly launched a charity campaign , the proceeds of which will benefit the White Ring. The White Ring supports crime victims and strives to prevent criminal offenses. The proceeds of all MicroMacro: Crime City products purchased in the Pegasus games merchandise shop by January 31, 2022 will be donated . Have a look! You can expect these products, among others:
THE NEW RING MESSENGER IS HERE!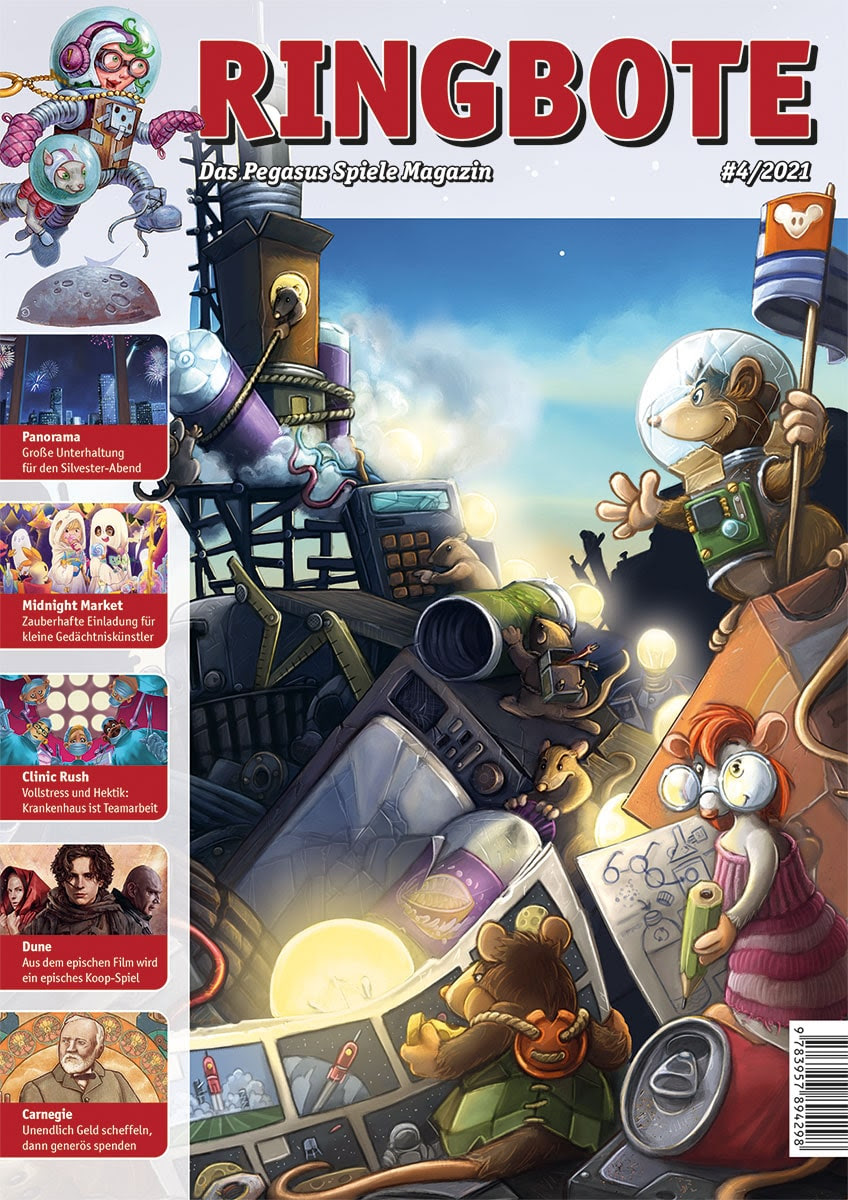 As the official Pegasus games magazine, the Ringbote offers articles on all kinds of products as well as exciting insights behind the scenes of our game publisher.

From now on you will receive the fourth edition 2021 with every order in our online shop . You can also download the digital PDF version . You will soon be able to get the ring messenger in many game stores . You can find all editions of the Ringbote as well as a list of all specialist retailers where you can get the Pegasus Games Magazine and the competition form for the current issue at www.pegasus.de/ringbote .
AEON'S END PROMO CARD IN THE GAME BOX
The latest issue of spielbox (7/2021) has been available for a few days !
In addition to exciting articles, reviews and much more. you can also look forward to a pack with six copies of the Splitter Bullet promo card for your Aeon's End . With the new spell you can cast four damage. If one of the other players discards a card from your hand, you can even split the damage! A strong spell, for example, against the Carapace Queen and her innumerable empty bodies!
SPECIAL OFFER FROM SPIELBOX® AND PEGASUS SPIELE
As a customer of Pegasus Spiele you can order a spielbox® subscription at special conditions here .
The campaign runs until December 31, 2021. You can also give it to someone else as a gift. For your own subscription, however, it is a requirement that you have not been an e spielbox ® subscriber for the past three years .
In Germany, the subscription costs only € 44 instead of the normal € 49 (within Europe: € 49.90 instead of € 54.90). Delivery costs and applicable VAT are included. The subscription comprises seven issues and starts with the next available issue.
The subscription expires automatically after the paid period has expired and does not have to be canceled. The spielbox ® asks whether it should be extended.
To the order form : w ww.nostheide.de/ aktionsangebote -spielbox- und- pegasus -piele
NEWS ON THE PEGASUS GAMES BLOG
On the Pegasus Games Blog you can look forward to insights into the publisher, background reports, interviews and much more about Pegasus Games. This is the latest blog post:
tomorrow Santa Claus is Coming
Pegasus gift-o-mat, advent calendar and gift tips from the Pegasus games team… Read more
ADVENT CALENDAR
Only four days until Christmas! In order to sweeten these last days for you, we are raffling off up to and including December 24th. two game packages every day in our advent calendar - one on our website and one on our Facebook page . Today the Game of the Year 2021, MicroMacro: Crime City, awaits on our website and the independently playable second part, MicroMacro: Crime City 2 - Full House, on Facebook . Stop by and take part!
CONTEST
If you want to maximize your chances of winning, then in addition to our Advent calendar you can also take part in our big Pegasus Games Christmas competition . We are raffling off a total of three Pegasus Spiele Best of 2021 fan packages with Die Kartographin , MicroMacro: Crime City 2 - Full House including the promo case Another bank robbery and the Splittermond entry box Departure for adventure . You can still up to and including December 24th. take part. We wish you good luck!
NOW AVAILABLE!
City of Angels
City of Angels is set in 1940s Los Angeles and is a game ...
COMING SOON: NEWS & REPRINTS
Tokaido
Welcome to Tokaido, the game about the legendary trade route that ...
RECOMMENDATIONS FROM OUR SALES RANGE
Dune - Treason (German)
A game about tactics, deception and breach of loyalty. Who is the noble house of Atreides ...
* All prices incl. VAT and
shipping costs
and possibly cash on delivery
charges
, unless otherwise described