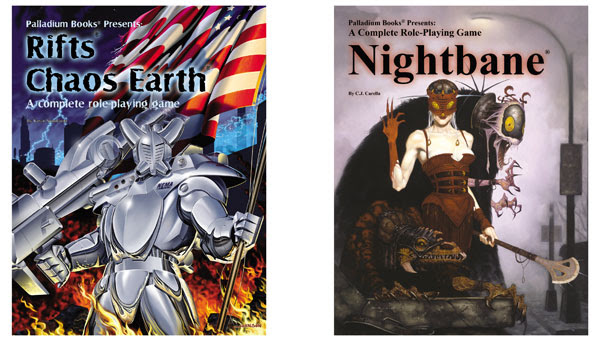 One game system – every genre – countless worlds – endless adventure
By Kevin Siembieda
This week has been a whirlwind for all of us. We sent in 13 short run reprints to one printer, 4 hardcover titles for reprint to another printer, approved the proof copies for the full reprint of the Rifts® 30th Anniversary Hardcover to a third printer, solicited printing quotes from three other printers, followed up on what we hope will be a fun surprise, and we are working on getting the next two new hardcovers sent to the printer: The Splicers® RPG Bonus Hardcover and the "Original" Palladium Fantasy RPG® deluxe hardcover (1st edition rules). All of this to make sure we have titles in stock for you throughout the holidays!
All of that work above is addition to shipping out distributor and customer orders, correspondences, business matters, work on The Rifter® Annual and a few other titles, coordinating artists and writers, authorizing a new Rifts® podcast, and a lot of other things. It felt like an especially busy and productive week, in a long string of busy weeks.
We have also been prepping for Palladium's annual Christmas Surprise Package offer. Signing hundreds of books, building boxes to ship them in, ordering more shipping supplies, putting our new shipping system into place, etc. The Palladium Christmas Surprise Package offer should start by the end of next week. Yes, we know a lot of you are chomping at the bit. We had hoped to surprise you by making these beloved Grab Bags available this week as we are getting a lot of anxious requests about them, but we just could not swing it.
What is a Christmas Surprise Package? We will provide you with the full description next week, but it is fun and full of love. A way for you to save money and get autographs if you want them. Our way of saying thank you for your support and patronage. That applies whether you are a newbie just discovering our games or have been enjoying them for years. If you are new to the Surprise Package watch for the details to come next week. If you have bought them in the past you know how awesome and fun they are.
Available Now! The Nightbane® RPG Hardcover and Rifts® Chaos Earth® RPG Hardcover. People are loving these two books and they are flying off our warehouse shelves. Both hardcovers offer additional "bonus" material and look fabulous. See complete details below and in the store.
Available Now! Systems Failure™ RPG. This is an often overlooked gem. Sean can attest to that. He had never read or played the game and thought it was a goofy one-shot. Then he read it and went wild over it. "Kev, this is a complete game and fun! I had no idea. You can play this as an ongoing campaign and have a great time. And I love the art too." Yep, yes, and yes. Systems Failure is a blast to play. If you have never read it before you should check it out, because you will fall in love with it too. Available as a physical book from PalladiumBooks.com and as a PDF from DriveThruRPG.com.
UPDATE: Sean Owen Roberson – I know many of you are excited about Sean Owen Roberson (Savage Rifts® line manager) becoming Palladium's Creative Director and Business Partner. Me too! I want to let you know that he and I are getting along famously and instantly working well together. We have a great many things we are putting into place to make Palladium stronger and see books released on a regular basis. Our immediate focus, as stated, is to finish and put new books in your hands as well as keeping back stock titles in print for the holidays. It's all good and we are having fun doing it. Every day is exciting.
Another bit of good news! The Rifts® 30th Anniversary Hardcover has been in high demand and the few copies we had left sold out. HOWEVER, I decided to make the 6-8 file copies I had put aside available in Palladium's online store so a few more people can snag them now rather than have to wait till December for the reprint. Enjoy and game on.
That is it for this update. I need to jump back into work. Have a good weekend. If you are enjoying unseasonably warm, nice weather, soak it in before the chilly autumn arrives.
NEW! Nightbane® RPG "Bonus" Edition Hardcover – Available now
At first, people thought Dark Day – the day the sun did not rise anywhere on the planet – was the end of the world. When the sun rose again, everything looked the same, but it wasn't. Some people have disappeared. Others seem different, darker, crueler, and the world seems more malevolent and dangerous.
Only the newly awakened Nightbane understand that governments and the authorities around the world are being quietly taken over by the sinister Nightlords and their Doppleganger minions. Demonic creatures from a mirror dimension filled with evil and dark magic. Only the Nightbane, born human but who learn they are something else, something more than human, and other creatures that live in the shadows such as vampires and Guardians, dare stand against the gathering darkness.
A role-playing game of modern horror, conspiracy, and self-discovery. A new genre we call superhero-horror.
You play the Nightbane®. Mostly young, seemingly ordinary people, who since Dark Day can transform into frightening or beautiful monsters blessed (or cursed) with superhuman powers and magic.
Nightbane® creation tables – each a different, horrific humanoid or strangely beautiful being who wields powers they must learn to master or fall prey to the Nightlords and their demonic legions. Powers they can only unleash in their monstrous Morphus form.
Nightbane "Talents" are supernatural and magical abilities.
Nearly a dozen other player characters including the Sorcerer, Mystic, Vampire, Wampyre, Guardian and others.
Magic, psionic abilities, and supernatural powers.
Nightlords and their minions: the Hunters, Hounds, Hollow Men, etc.
Wicked Dopplegangers, mirror travel, magic, and more.
The hellish Nightlands™, madmen, and adventure ideas.
Compatible with Beyond the Supernatural™, and adaptable to Rifts®, Heroes Unlimited™, Ninjas & Superspies™, Dead Reign®, and the entire Palladium Megaverse®.
60 pages of "bonus" material gathered from The Rifter®.
304 pages – $39.99 retail – Cat. No. 730HC – available now. (Also available as a 240 page softcover RPG; $26.99 retail – Cat. No. 730).
Available now – Systems Failure™ RPG
The Systems Failure™ RPG lets you explore an alternate timeline where all the doomsday prophecies were right, and the world as we know it ended in the year 2000.
When the cities fell, and everything went "off-line," all seemed lost. Anarchy reigned. All that is left are families struggling to survive and the survivalists, nature-lovers, rowdy farmers, gun fanatics, eggheads, and backwoods wackos living on the fringe – either people out in the boonies or preppers ready for the collapse of civilization.
Oh, and there are the "Bugs" – alien, insect-like things that feed on electricity and turn humans into mindless slaves. Things are worse than anyone could have imagined, but these survivors aren't ready to give up. And they mean business. America (then the world) will be free!
Join the fight as unlikely heroes battling to save a post-collapse world in an action-packed role-playing game that can be played straight and serious, or with a touch of satire and humor. Reclaim the world for god-fearing humans and go destroy the Bugs!
A complete, stand-alone role-playing game.
The Villains: Monstrous invaders from another dimension drawn to all things electronic. Deadly and weird.
Unlikely Heroes: Play outcasts, nutcases, and survivalists.
11 O.C.C.s including the Exterminator, Freebooter, Wacko, Survivalist, Splatterpunk, NORAD Psychic, and more.
Plenty of world information and adventure ideas.
Written by Bill Coffin from concepts by Kevin Siembieda.
Conversion notes for Rifts® and other Palladium settings.
144 pages – $22.99 retail – Cat. No. 650. Available now.
NEW! Chaos Earth® RPG "Bonus" Edition Hardcover – Available now
The Great Cataclysm as it unfolds! The Golden Age of Science and human civilization is shattered with the return of magic and the Coming of the Rifts. Humanity struggles to survive against impossible odds as ley lines appear and Rifts tear open the fabric of space and time to unleash all manner of alien invaders, demonic horrors, and monsters. Natural disasters – storms, volcanic eruptions, earthquakes, tsunamis – topple cities and create panic and chaos on a global scale.
You play survivors or the heroes of NEMA (the Northern Eagle Military Alliance) as you battle against the elements, madness, the demonic, the alien, the monstrous, and the magical amidst the devastation. You are equipped with Chromium Guardsmen (Glitter Boys), Silver Eagles (SAMAS), and a host of giant robots, power armor and advanced technology, but is it enough to stand against a rising tide of enemies and invading horrors from other worlds?
You and other survivors are humanity's last and only hope to survive the apocalypse that will become known as the Great Cataclysm. These are the heroes you play in an ever-changing, nightmare world that can only be described as Chaos Earth.
A complete RPG and the origins of Rifts® Earth.
Overview of the Great Cataclysm as it unfolds.
Introduction to NEMA and its weapons and resources.
11 different character classes, including robot pilots, the Para-Arcane, Demon and Witch Hunters, Chromium Guardsmen & more.
Robots, power armor, vehicles, weapons, and equipment.
Monsters, chaos and adventure. Written by Kevin Siembieda.
30 pages of "bonus" material gathered from The Rifter®.
192 pages – $36.99 retail – Cat. No. 660HC – available now. (Also available as a 160 page softcover RPG; $20.95 retail – Cat. No. 660).
WARNING: Printing Shortages
Though we will do our best to keep all titles available throughout the rapidly approaching holiday season, we know we will run out of some titles. The hardcovers will be the most vulnerable as the binderies are backed up and paper is becoming hard to find. Right now the wait time to get a hardcover book is 12-14 weeks for most printers. When a hardcover sells out, it will take 3-4 months to get it back into stock, so if there are hardcovers you know you want or plan to get as Christmas gifts for others, you should probably order them sooner than later. Note: Most hardcovers will not be available in Christmas Surprise Packages. Sorry.
At Palladium, we are doing everything in our ability to keep books in print by placing orders for them NOW! It is playing havoc with our cash flow but we do not want to disappoint you as we near the holidays. For Example: The beloved original 1990s Rifts® 30th Anniversary Hardcover is in high demand. It is still playable with all Rifts World Books and sourcebooks, and offers a fun, 32 page color bonus section that includes a gallery of all Rifts covers, concept art, history behind the making of Rifts, and more. After the big distributor order, there are only 10 copies in stock and more will NOT be available until mid-December. Wayne and I had to move heaven and earth to get it reprinted and back in stock that quickly! (We also have 25 copies with minor damage – dings, dents, scratches, crunched corners – put aside for Christmas Surprise Packages.) When they sell, they will be out of stock for the next two and a half months, until mid-December. And that is assuming there will be no unexpected delays. FYI, other printers could not get us the book until mid-January, so we count our blessings and pray this printer comes through with a timely delivery.
Listed below are titles we know will become temporarily out of stock within a few weeks. In the case of those listed below, quantities are very low. In some instances, fewer than a dozen copies. We will get them back in stock as quickly as we can (4-5 weeks), but they may be unavailable for a number of weeks before they arrive. With good planning and a little luck, our timing will be such that you'll never know a book was nearly sold out, or it won't be unavailable for long.
List of RPG Hardcovers Currently Available:
Note: As per our new policy and the unpredictable print times, we will not be releasing estimated release dates for these last three hardcovers and upcoming new releases.
Retailers can buy direct from Palladium
Help Your Game Store Find Palladium RPG Products! With game stores opening back up we are happy to report that our distributors are doing a good job at stocking our many titles. If your store is having trouble ordering Palladium titles from distributors or they find getting product from their distributors is too slow, tell them they can buy wholesale directly from Palladium Books. We usually succeed at keeping most of our 200+ titles in stock at all times. You might also point them to Alliance, Studio 2, and Universal Distribution (Canada), who are all doing an especially good job keeping Palladium titles in stock and available. A few store owners reached out to us just this past week, thanks to your efforts, so keep up the good work!
Brick and mortar stores can request the Retailer Terms by contacting Palladium via the Help Desk on our website or by telephone (734-721-2903). Thank you for your help on this front. Please keep spreading the word. Thank you.
After the Bomb® Podcast is a hit among fans – new episodes are coming
This is why I love the Palladium family of fans. The Palladium community has worked together to create something special. Thanks to your help supporting and promoting the fun Real Play Games Podcast it is a hit and growing. They are already moving into securing advertisement deals and charting on Canadian Spotify well ahead of their projections. And these folks are gamers and Palladium fans just like you following a dream. How cool is that? Thank you for doing this.
They have wrapped After the Bomb®: Purrsuit Season 1 and are in the planning stages for Season 2, which will pick up with characters selected by the podcast audience. It is interesting to note that almost none of the podcast players had any prior experience with Palladium's Megaversal game system prior to running the After the Bomb® podcast, but now they're hooked. They like it so much they have slated SIX Palladium games for recording over the course of the next year!
You can learn more and listen to After the Bomb®: Purrsuit of Knowledge adventures by using the links below. I hope you enjoy them as much as we do.
NEW! After the Bomb®: Purrsuit of Knowledge: Episode 8 – 2xDs? Nuts! As the battle rages across the Land of Caster, the Empire ups the threat level, deploying deadly power-suited attackers as they attempt to purge the remaining mutant animals from the area, but the Fursome Foursome, Piero, and the Rodent Cartel aren't planning on going down without a fight! Death-defying dodges! Evil birds! Axe tossing! Exclamation points! You'll get at least some of these when you tune into the episode!
Expected Release Date: October 8, 2021
Content Warnings: Adult Language, Drug Use, Violence
After the Bomb®: Purrsuit of Knowledge: Episode 9 – The Battle of Hershey Avenue. Whether you call it a sky-van or a helpercopter, whatever it is spells a lot of trouble for the Fursome Foursome and their allies, and not everyone's going to make it out of this one fully intact. This one is for all the marbles, and the reverberations that come from this will change things not just now, but in the future. Is GM John going to bump off your favorite mutant animal? Better check and see on this one!
Expected Release Date: October 22, 2021
Content Warnings: Adult Language, Violence
After the Bomb®: Purrsuit of Knowledge: Episode 10 – Homes: Lost, Sought, and Found. In the aftermath of the battle between the Empire of Humanity and the Rodent Cartel, the Fursome Foursome finds themselves at a crossroads. The ramifications of the things they learn and the choices they make will shape the future in ways both large and small, and when we pick back up on them next, there'll be new faces and new stories to get to know, right alongside your old favorites. There's no such thing as a goodbye with the promise that you'll meet again.
Expected Release Date: November 5, 2021
Content Warnings: Alcohol and Drug Use, Adult Language
After the Bomb®: Purrsuit of Discussion Bonus Show. Game Master John and the whole cast take some time to answer listener questions from email and Twitter, the gang talks about some of the background information behind their characterizations, speculate on some things that came up in game, and just have a fun time chatting about the game we just played before we roll into another one in two weeks. Also, we somehow get back into the mutant kangaroo boob thing again, that just seems like it's going to be a running thing.
Expected Release Date: November 19, 2021
Content Warnings: Adult Language
Heroes Unlimited 2E Christmas Special is just one. When the megavillain speedster Railgun is contracted to abduct and ensure the safety of Santana Villarosa, a popular Youtube doll refurbisher, he'll have to face hired killers, ninja, the Gnomes of Zurich, the forces of Dracula Jr. and more to see to it that she'll make it home for the holidays! We start recording this one in mid-October and ideally will have a weekly set of releases for the first four weeks of December 2021.
And coming over the next 12-18 months ...
After the Bomb: Purrsuit Season 2
Beyond the Supernatural 2E – Cozy Caverns Mysteries
Palladium Megaversal system – Baby, I Shrunk these F*$#ing People!
Nightbane®
Rifts®
Please continue to support and spread the word about Real Play Games and their RPG Podcast: After the Bomb®: Purrsuit of Knowledge™.
Still Hot! Rifts® Automated Character Sheet for EXCEL
The next step in character data collection! This EXCEL template provides automation to your Rifts® character creation process. Done in Microsoft Excel, this character template will allow you to build your character with substantial ease and speed. Ideal for the new gamer who doesn't know all of the Palladium Books® rules just yet, it's also a highly effective tool for Game Masters and advanced players alike who make multiple characters, NPCs or just like to min/max or theory craft characters between games.
Dice Roller: A simple dice roller is on the main page of the character sheet to help with character creation or in-game dice rolling needs.
Automated Attributes and Stat Block: All the bonuses and features from attributes are presented in a large stat block allowing you to easily see your bonus to save vs Psionics, Mind Control, etc. You can pick your strength type (Normal, Augmented, Robotic or Supernatural) to determine your carrying and lifting capacity and even your M.D. punch damage if your strength is high enough and of the right type.
Automated Combat Stats: The main page holds a section where you can pull up data for your various combat stats, from hand to hand abilities such as Strike, Parry, Dodge and Disarm, to W.P. bonuses including those of the W.P. Sharpshooting variety. This section draws upon all of your character's selection of skills and abilities and even offers customization from odd O.C.C. or racial abilities.
Automated Psionics: All psionics from Rifts® Ultimate Edition, Rifts® World Book 12: Psyscape™ and Rifts® World Book 32: Lemuria can be selected from a dropdown menu that then populates tables with the information on psionics for your character. Each psionic ability's data including damage, M.D.C. and range also automatically increases based on the character's level of experience.
Automated Spells: All Common Invocations, Necromancy, Ocean Magic and Biomancy spells (yes, all the Lemurian Biomancer spells too!) can be selected from a dropdown menu that then populates tables with the information on spells for your character. Each spell's data including damage, M.D.C. and range also automatically increases based on the character's level of experience.
Automated Skills: All skills from the Rifts® Ultimate Edition, Rifts® World Book 25: China 2 – Heroes of the Celestial Court™ and Rifts® World Book 32: Lemuria can be selected and then automatically add bonuses from prerequisites and related skills. Physical skills that provide bonuses also add those bonuses directly to attributes and combat stats. Bonuses that require dice rolls are denoted and can then be manually rolled and added to the character sheet. Custom percent bonuses such as O.C.C. bonuses can also be added to individual skills.
Automated Cybernetics & Bionics: All cybernetics and bionics from Rifts® Ultimate Edition along with some favorites from other books can be selected from dropdown menus which then tabulate bonuses and add them to your combat stats. Prices also sum up so an enterprising Headhunter can keep track of his hardware and upgrades. Simple cybernetic body part diagrams even allow players to allocate the locations of their various cybernetic and bionic components.
Freeform O.C.C. and Racial Power Section: A section for non-standard powers, special O.C.C. or racial abilities allows the player to add custom skills and powers that can be linked to those features to draw upon the character's level of experience, I.Q. bonus or other stats so powers grow as the character advances.
Character Building Section: On the main page of the document is a section to help you build your character, from customizing attributes, to adding non-standard bonuses from O.C.C. or racial abilities, to an optional point buy system for attributes.
Helpful Hints and Suggestions: Red triangular tabs appear throughout the document. Hovering over the red tab with the mouse cursor will reveal useful data from sourcebooks, hints, suggestions and other information, such as what a particular stat means, how it's used in the game and what things can add bonuses or affect it. There is also a page with overview instructions on how to use the sheet, and a number of instructional videos will be posted via Palladium TV on the ins and outs of the character sheet. The first can be found here: http://youtu.be/a89XzAV37sE
Portrait: A special sheet is set up so you can add an image to the document for a custom portrait for your character. That image is then displayed on the main page and is protected from accidental movement or deletion from the main page.
Password Protected: Several pages of the document are password protected so players won't accidently delete formulas and ruin the character sheet's automated features. The password is provided so players can customize the sheet to their liking then protect the sheet again so they don't undo all their hard work.
Note: The file is best used in Microsoft EXCEL 2016 or above. Some data may be lost if not using Microsoft EXCEL, such as when using similar products like Open Office.
Available from PalladiumBooks.com AND DriveThruRPG.com – make them characters!
NEW! After the Bomb® RPG "Bonus" Edition Hardcover – Available now
Create any type of intelligent, humanoid, mutant animal from a turtle or raccoon to an elephant or lion. The RPG presents stats for 100+ mutant animals, plus rules for creating any mutant animal you can imagine, and each sourcebook offers dozens more.
Play your mutant animals as super-heroes, vigilantes, or mutants on the run in the Heroes Unlimited™, Ninjas & Superspies™, Heroes of the Megaverse® or Skraypers™ settings. Or as mutants or monsters in Nightbane®. (You could make a mutant animal the Nightbane's Morphus!) In Palladium Fantasy® your mutant animal could be one of the forgotten archaic races, a visitor from another world, a creation of magic, or a monster. In Rifts®, Chaos Earth®, Phase World® and the Three Galaxies, The Mechanoids®, Aliens Unlimited™, Splicers® and similar RPGs, use the creation rules to make new D-Bees, aliens, mutants, or monsters. Or play in the AtB post-apocalyptic Earth setting that makes Planet of the Apes seem tame. Whatever the setting, playing anthropomorphic animal characters is a blast.
100+ mutant animal stats included.
Mutant animal creation rules to mutate ANY animal.
52 Mutant Animal Powers.
33 Mutant Animal Psionic Powers.
New Animal Chimeras and their abilities.
New back story to the After the Bomb® world of mutants.
The post-apocalyptic Earth setting of "After the Bomb" is just one use for your mutant animal heroes.
A complete RPG written by Erick Wujcik. His last great work and a sometimes overlooked RPG masterpiece. These are the Mutant Animal Creation Rules you know and love taken to new heights.
Compatible with Heroes Unlimited™, Aliens Unlimited™, Nightbane®, N&S, Rifts® and any game setting where mutants or aliens are appropriate.
72 pages of "bonus" material includes the original After the Bomb® sourcebook and Yucatan Adventures from the old Game Shield.
296 pages (72 bonus pages) – $39.99 retail – Cat. No. 503HC – now shipping. Also available as a 224 page softcover book ($26.99 retail – Cat. No. 503).
NEW! Ninjas & Superspies™ RPG "Bonus" Edition Hardcover – Available now
The Ninjas & Superspies™ RPG is the ultimate guide to martial arts with 40 different martial art forms and 48 mystic martial arts powers alone, but there is so much more. Asian combat skills accurately portrayed, each with its own unique fighting style, methods of attack and defense presented on an epic scale, complete with legendary mystic powers. Spies, Cyber Agents, Gadgeteers, secret organizations creation rules, secret identities, gimmick weapons and clothing, cyber-disguises, implants, and more. Compatible with Heroes Unlimited™ RPG and even Nightbane®, Rifts®, and other settings. A complete game PLUS 44 pages of bonus material gathered from The Rifter®.
40+ types of hand to hand combat — effectively offering 40 types of martial arts character classes!
17 Occupational Character Classes for spies, mercenaries, martial artists and special operatives.
48 mystic martial art powers.
Dim Mak, Chi Mastery, the Arts of Invisibility and more.
Bionic implants, disguises, weapons, & equipment.
Secret identities, spy agencies, and creation rules for secret organizations.
Complete stand-alone RPG with skills, weapons, rules and guidelines for using other Palladium settings.
Compatible with Heroes Unlimited™, Rifts®, Rifts® China, and the entire Palladium Megaverse®!
44 pages of "bonus" material gathered from The Rifter®.
224 pages – $36.99 retail – Cat. No. 525HC – RPG by Erick Wujcik – now shipping. Also available as a 176 page softcover book ($22.99 retail – Cat. No. 525). And see Mystic China for an astonishing and fun sourcebook with more mystical martial arts abilities, magic, demons, immortals and more.
NEW! Dead Reign® RPG Hardcover – The Zombie Apocalypse™ – available now
The dead have risen and it would seem to be the end of the world.
Civilization crumbles in a matter of days as hundreds of millions of people die and rise as the walking dead. The hundreds of millions of people who fall to the zombies also rise to join the growing legions of undead. Then the world goes silent.
You are on your own. The army is MIA. There is no government. No law. No television, radio or Internet. No media, cell phones or communications of any kind. Cities and towns have gone dark, and zombies fill the streets.
Death Cults have risen, promising protection from the walking dead.
Retro-Savages have forsaken technology and sacrifice the living to the zombies in hopes of bringing an end to the nightmare.
Brave human survivors refuse to lie down and die! They come from all walks of life. Their common goal: survival as they struggle to forge safe havens away from the cities, rescue other survivors and battle the walking dead without respite. For now at least, the planet belongs to the dead.
Dead Reign® is an excellent introductory game that is easy to learn, fast to play, and fun to read. If you are looking for a zombie game that truly captures the feel of survival after the apocalypse and the nightmare of being stalked by zombies, Dead Reign® is it. Game mechanics are designed to create a real sense of escalating terror and dread when the zombies swarm. Sourcebooks expand the world, player options, and adventure ideas as well as new zombies and dangers.
Six Apocalyptic Character Classes (O.C.C.) including the Reaper, Shepherd of the Damned, Hound Master, Apocalyptic Soldier, Scrounger and Ordinary People.
Seven types of zombies plus the Half-Living. (Sourcebooks offer many more.)
Secrets of the Dead: Everything you need to know about zombies and need to ask.
Death Cults, their Priests, power over zombies and goals.
Random tables galore and the fundamentals of survival.
Strong setting, world overview and many adventure ideas.
A complete role-playing game. 224 pages – $36.99 retail – Cat. No. 230HC – now shipping. Also available as a 224 page softcover RPG ($26.99 retail – Cat. No. 230).
Rifts® RPG 30th Anniversary Commemorative Hardcover
The "original," 256 page Rifts® RPG from 1990 plus an extra 32 additional pages of color at the back of the book. This new section includes the history and people behind the making of Rifts®, a gallery of ALL Rifts® covers to date (160+ of them including those coming soon), never before seen concept art, other artwork and fun. Note: This is a different rule book than the expanded 376 page Rifts® Ultimate Edition (RUE), but the original remains completely compatible with RUE and all World Books and sourcebooks.
Rifts® merges science fiction with fantasy, horror, heroic adventure, and other genres in a thrilling and plausible setting that will set your imagination on fire. Travel the Rifts to any location on Earth, or leap across the dimensional divide to visit alien worlds and dimensions in a matter of seconds. And just as you can travel to other worlds, aliens and the monstrous travel to Earth and stalk the innocent.
Rifts® is a fusion of ideas, settings, genres, and characters unlike any game on the market. An endless Megaverse® of adventure™ in which if you can imagine it, you can play it. Are you up to the challenge?
The Rifts® Commemorative 30th Anniversary Hardcover is the original first edition Rifts® rule book (1990) that started a phenomenon. It is a complete RPG suitable for use with ALL existing Rifts® World Books, Sourcebooks, and Dimension Books. It is an earlier and somewhat simpler edition given the deluxe treatment. Expanded with bonus art, an additional 32 color pages, color end sheets, history about the making of Rifts®, notes, concept drawings, color concepts, photographs, and a gallery of every Rifts® cover published between 1990 and the end of 2021. The cover features the famous Keith Parkinson painting of the Splugorth Slave Barge. Provided to you due to popular demand.
The "original" Rifts® RPG (1990) back in print for the first time in 16 years.
Color cover of the famous Splugorth Slave Barge by Keith Parkinson.
A color gallery of 160+ Rifts® covers.
An extra 32 pages of color.
More comprehensive contents pages.
Concept art and pencil illustrations often with notes by the artist.
History of Rifts®, personal notes, commentary, and nostalgic material.
Color end sheets.
Countless memories, and loads of fun.
A simpler, earlier version of the core rules.
A complete role-playing game suitable for use with ALL existing Rifts® World Books, Sourcebooks, and Dimension Books.
Available in stores and from Palladium Books.
This is NOT the signed or numbered limited edition, but we are happy to sign copies at conventions and the Palladium Open House. The print run is likely to be limited to a few thousand copies.
288 pages – $49.99 retail – Cat. No. 800HC30 – Available now. Also see the 376 page Rifts® Ultimate Edition RPG for the current Rifts® rule set.
UPDATE: Rifts® CS Manhunters – Bigger, Bolder, Epic, 190+ pages
Somehow the Rifts® CS Manhunters Sourcebook has become epic and grown in page count. I am nearing the finish line on this greatly expanded title which is now part Coalition States adventure sourcebook and part psionics sourcebook, with the psionic elements being in the limelight in a similar vein as the Rifts® Bionics Sourcebook was for bionics, only with an emphasis on how the Coalition States use psychics. There are revisits, clarifications, and expansions of some of the classic psionic abilities, and 50+ new psionic powers that are fun and intuitive. Only a handful are limited to the Manhunters. As for the CS Manhunters ... I think they will quickly become the new villain you love to hate. In addition, the sourcebook provides insight about CS psychics, Dog Boys, Kill Hounds, Psi-Stalkers, the Minion War, CS citizens, and Emperor Prosek. I love this book and I'm confident you will too. I am trying to wrap this bad boy up for an August release!
Rifts® CS Manhunters presents dark secrets of the Coalition States involving CS psychics, the super secret Psi-Ops Division (the thought police of Emperor Prosek), and the deadly super-patriots that are the enigmatic CS Manhunters. Includes 50+ NEW psionic abilities with real punch, insight into the Dog Boys and Kill Hounds, meanings revealed about the Seven Dangers Prophecy (first introduced in Rifts® Sourcebook 2: The Mechanoids®), and gadgets and implants, and surprises. All of it building toward something epic.
New Coalition Psychic O.C.C.s.
50+ new psionic abilities and revisits of some favorites.
CS Manhunter Divner and Precog.
CS Manhunter Psi-Interrogator and Psi-Enforcer.
CS Manhunter Bursters and Zappers.
CS Manhunter Psi-Healers and CS Slayers.
CS Manhunter Killhound and Dog Boy O.C.C.s.
CS Manhunter Mind Melters, the deadliest of them all.
CS Manhunter squads and special operations.
Secrets of Psi-Ops Division and insight about Coalition psychics.
Deciphering the Seven Dangers Prophecy.
The impact of the demon plagues unleashed by the Minion War.
Player Characters, NPCs, background info, adventure ideas, and more.
192-224 pages – $26.99 retail – Cat. No. 894 – In final production and should ship toward the end of September.
UPDATE: Creature Feature™, a Beyond the Supernatural™ sourcebook
This is going to be another fun adventure sourcebook. The manuscript will go into editing and rewrites as soon as I finish CS Manhunters and most of the artwork is done. Though I may add a few illustrations and already have artists lined up. Creature Feature™ builds on material that has appeared in various issues of The Rifter® but there is a ton of new material and information useful to both Game Masters and players.
A gallery of supernatural creatures. Some new. Some familiar, updated and expanded. All terrifying.
Rules clarifications and errata.
Game Master source material and advice on rules, psychic abilities, proximity and threat levels, I.S.P. multipliers, and more.
Advice about running modern horror RPGs and using supernatural creatures in your games.
Lots of adventure ideas, including an updated and expanded full adventure, "The Squatter."
New background and setting information for the BTS setting and a few surprises.
Written by Steven Dawes, Kevin Siembieda, and others.
Art by Steven Cummings, Nick Bradshaw and others.
160-192 pages – $22.99 or $26.99 depending on final size – Cat. No. 704.
UPDATE: Rifts® Titan Robotics™
Here it is, the reveal of the new cover. I hope you like it. I love that it presents the iconic Titan Robotics Combat Robot with a new big gun that hints at what else awaits you inside the book. I also enjoy the combat scene, smoke, and haze of war. Like Northern Gun and the Manistique Imperium, Titan Robotics sells freely to adventurers, mercenaries, and anyone who has the cash. Hence, the owners of these big 'bots clashing with Coalition Forces.
This is why I call Rifts® Titan Robotics™ a high-tech toy box filled with many new types of Titan Robotics power armors, giant robots, vehicles, weapons, and gear. Some are big bruisers while others are small and sleek. As fun as these new tech toys are, Rifts® Titan Robotics™ delves into the company's many secrets, including ARCHIE-3's plans and program to monitor and manipulate the outside world. Learn about Archie's androids that run Titan Robotics and his current schemes and plans for the future. All of which provides fodder for adventure.
New Giant Robots.
New Power Armor, equipment and accessories.
30+ power armors and robots, plus other equipment.
New weapons, gear and vehicles.
Titan Robotics Corporation and structure.
Archie's secret kingdom and plans for the future.
New O.C.C.s and key Non-Player Characters (NPCs).
Android executives, security and much more.
Wellington Industries, campaign prompts and more.
Art by Walton, Cummings, Atkins, and others. Cover by Mike Majestic.
Written by Matthew Clements and Kevin Siembieda.
160-192 pages (tentative) – $22.99 retail (or $26.99) – Cat. No. 899.
UPDATE: Rifts® Bestiary™ Volume Two
The second big, "monster book" reference for Rifts® of what we anticipate to be three volumes in the series, more if we decide to make ghosts, spirits and Entities and/or Creatures of Magic part of the Bestiary series. Much like Volume One, Rifts® Bestiary™ Volume Two collects 70-100 monsters and animals plus 12-24 new beasts found across Rifts North America. The anticipated page count is 224-256 pages.
All volumes of the Rifts® Bestiary™ series are a great resource for players and Game Masters alike. Each description is updated, expanded, and highly detailed to present players with exotic and alien creatures as pets, guardians and riding animals, as well as slobbering monsters to battle and fierce beasts for Game Masters to throw at their players. Designed to offer adventure ideas, offers notes on young, adult, male and female creatures, and all provide plenty of ways to enhance your characters and spice up adventures. Each is accompanied by a map that shows at a glance where the beast can be encountered. Ah, but in the presence of Rifts and magic means any of the creatures may appear anywhere in the world, so be on your toes.
Monsters and animals of Rifts North America organized into big, easy to use sourcebooks.
Updated and expanded descriptions and information for each existing monster.
Updated and uniform stat blocks.
New exotic creatures – predators, exotic riding animals, beasts of burden, alien horrors, giant insects, and more.
A map for every creature showing where it is found.
Easily adapted to any Palladium setting – Palladium Fantasy®, Chaos Earth®, Splicers®, Phase World®, the Three Galaxies™, The Mechanoids®, Heroes Unlimited™/Aliens Unlimited™, and others.
Basic S.D.C. stats included with each creature description.
Fully illustrated, with art by Charles Walton II, Ramon Perez, Robert Atkins, and many others. Written by Kevin Siembieda.
256 pages each volume – $26.99 – Cat. No. 897 (Volume Two).
New on DriveThruRPG.com as a PDF product – Erick Wujcik's "Lost first RPG" Sector 57
Sector 57 is Erick Wujcik's very first RPG (1980, self-published) – a tournament game, actually. I played it way back when with Erick and it was fun. I think you will enjoy it, and it is a fun piece of history. ALL proceeds go directly to the Wujcik Estate and probably toward the education of Erick's beloved grandchild, Tristan.
As most of you know, Erick would go on to write the Teenage Mutant Ninja Turtles & Other Strangeness RPG, Ninjas & Superspies RPG, Amber Diceless, and contribute to a number of other RPGs and sourcebooks.
Sector 57 is written by Erick Wujcik and illustrated by me, Kevin Siembieda. Making it Erick's and my first published collaboration. The tournament has space travelers find a derelict alien spacecraft to explore and answer questions like is it safe to fly and take as their own? What happened to the crew? Is there danger lurking onboard? Can you figure out how to pilot the spaceship? We are selling it for the original 1980 price of $5.00 making it a deal. Available only as a PDF from DriveThruRPG. Enjoy.
Coming to DriveThruRPG.com – The Original RECON by Joe F. Martin (1982), RECON® Supplement One: Sayaret, RECON® Module Two: Hearts & Minds, and if we can swing it, San Succi, the big newspaper style module and maps. In addition to releasing these as individual PDF products, Palladium also intends to collect and release them as a special, deluxe, hardcover RPG and sourcebook in the months ahead.
Palladium Books has settings for every genre: Fantasy RPG, science fiction (Rifts®, Splicers®, and The Mechanoids®), super-heroes (Heroes Unlimited and After the Bomb), superhero horror (Nightbane®), modern horror (Dead Reign® and Beyond the Supernatural), plus The Rifter® sourcebook series (by fans like you), novels, paper minis, and more.
Rifts® Novels: Duty's Edge – The lone surviving soldier from a New German Republic Special Forces operation struggles to complete the mission on his own. A stand-alone Rifts® novel complete in itself. 236 pages, Cat. No. 308. The Cosmo-Knight and The Reckoning (Phase World®, the Three Galaxies, and Cosmo-Knights), the Rifts® trilogy of novels: Sonic Boom, Deception's Web, and Treacherous Awakenings, as well as the Rifts® Anthology: Tales of the Chi-Town 'Burbs (11 authors), Machinations of Doom (graphic novel by Ramon K. Perez), and Path of the Storm (a proposed Rifts® movie script) and 300+ other Palladium Books RPG titles.
Also available: Free Garden of the Gods™ (Fantasy) and Rifts® Bestiary™ Volume One Sneak Previews, and the Palladium Fantasy RPG® Interactive Character Sheet: A Microsoft Excel-based character management system. Packed with features and data collected from every official Palladium Fantasy sourcebook to enable you to create Fantasy characters quickly (25 minutes!) and help you to update and manage them for years to come.
Dead Reign® Paper Miniatures Volume Three: Zombies, Dead Reign® Paper Miniatures Volume Two: Civilians and Dead Reign® Paper Miniatures Volume One: Survivors. There are also paper miniatures for Heroes Unlimited™, Palladium Fantasy® and Rifts®. A new, up-to-date, PDF Palladium Books Catalog. Nightbane® Dark Designs™ sourcebook with 60 new Common Talents, 38 new Elite Talents, 18 new Morphus Tables, all other Morphus Tables collected and more. Systems Failure™ RPG, a 160 page RPG that deals with alien invasion and a post-apocalypse setting that is fun and dynamic. Civilization is on the verge of collapse when the so-called "bugs" invade and turn humans into zombie-like slaves. Monsters, heroes and fun. A complete RPG and setting. Rifts® World Book 34: Northern Gun™ Two: 256 pages of technology and fun. 30+ power armors, 30+ body armors, 15 combat vehicles, 45 vehicles (hovercycles, etc.), 10 robot haulers, the Robodome and more. Bizantium and the Northern Islands™: the northernmost part of the Known World, the Cold Born, Necromancy ships made from dead sea serpents, 15 creatures, Random Sea Monster Generator, and more.