One game system – every genre – countless worlds – endless adventure
By Kevin Siembieda
The Surprise Package offer is a great way to start the New Year! But you need to act quickly because the sale ends January 17, 2022. It is a great way to treat yourself, try new settings and games, get ideas for new campaigns, replace lost or worn out books, fill holes in your collection, or get a gift for the gamer in your life. Ideal as a gift for a birthday or anniversary, Valentine's Day, or any gift-giving occasion. And please spread the word so other gamers, especially newcomers, can enjoy these Surprise Packages too.
It is interesting to see sales trends every Surprise Package season. Rifts® is always our Number One seller, but it seems to be hotter than ever. Palladium Fantasy RPG® and Heroes Unlimited game lines were close behind it in that order.
The hot sellers that were a bit of a surprise this year were titles for Dead Reign®, Nightbane®, Ninjas & Superspies and After the Bomb®. I think the new hardcover releases of core games reminded people about some of these titles, but Dead Reign® and After the Bomb® were burning hot. I guess folks love zombies and the zombie apocalypse. Meanwhile, I think nostalgia for Teenage Mutant Ninja Turtles & Other Strangeness is driving AtB sales. Awesome, because After the Bomb® is a great series of books and enables you to create any type of intelligent, mutant animal. Characters can be used as superhuman crime-fighters in Heroes Unlimited and Ninjas & Superspies or as After the Bomb® mutant inheritors of the planet Earth (think Planet of the Apes with a vast menagerie of humanoid animals), or they can be played as heroes, D-Bees, monsters, or aliens in many of our of other game settings. I am so happy people are rediscovering this Erick Wujcik gem.
I'm also glad so many of you enjoyed the DriveThruRPG PDF sale that ended this morning. Gaming in all forms seems to be bigger than ever and growing! These are both exciting and frustrating times.
Happy New Year! Tomorrow is New Year's Eve so have fun, but be smart and stay safe. Covid is running rampant here in Michigan and other places so celebrate carefully.
See my Closing Thoughts and another super-sized selection of Surprise Package Comments for more words and thoughts from your fellow gamers and me.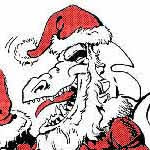 Surprise Package offer extended for a short time
These are the last couple of weeks to get a Palladium Surprise Package before the sale is over until next Christmas season. Don't delay.
Is this a Christmas miracle? A mistake? Utter madness, perhaps?
Nah, it has become tradition to extend the Christmas Surprise Package Offer through the end of December and into the New Year! Yes, this means you can still snag one or two if you act quickly. The Sale now ENDS January 17, 2022, and will NOT be extended further. Oh, and you can ship via the less expensive method of Media Mail because you do not need it for a deadline.
A Surprise Package is a nice way to start the New Year, and is a great gift for birthdays, anniversaries, graduation, and any gift-giving occasion. Or start the New Year with a stack of RPGs or sourcebooks you have been meaning to try, or books you need to fill holes in your collection, or to replace battered well-loved books. FYI: Now that it is back in stock you can put the beloved "Original" Rifts® RPG 30th Anniversary Commemorative Hardcover on your Wish List and be considered to receive one. The book is truly fun and special and completely compatible with all Rifts® titles. HOWEVER, for the Surprise Package offer it carries a $60 dollar value. Remember, this special edition of original Rifts® includes a bonus 32 page color section containing the history of Rifts®, a gallery of all Rifts® covers to date (160+), concept drawings and more. (Note: Can also be purchased separately – 288 pages – $49.99 – Cat. No. 800HC30.)
We extend the offer for those of you who have been so busy spending your time and money on your family and friends, that you have not had the opportunity or funds to treat yourself to a well-deserved Christmas Surprise Package.
We also extend it for those of you who cannot get enough of Palladium's games and want to start the New Year off with a setting or source material to launch a new campaign. And for those of you who can use a Surprise Package as the perfect gift for a birthday, anniversary, or special occasion coming up in January or February. (Valentine's Day?)
And we extend the Surprise Packages for you Johnny Come-Latelies who were meaning to get one, but how time flies during the holidays even during a pandemic. And because so many states are hot spots and with the new Omicron variant spreading, I have made the extended period longer than usual. (I could have sworn "Omicron" was a Transformer.) It just feels like it is more important than ever to spread the joy of gaming into the New Year. So please, spread the word about the extended Surprise Package sale period, and travel the Megaverse® from the safety of your home.
What is a Christmas Surprise Package?
A smile and a hug that comes in a box filled with signed game books from available Palladium staff and freelancers. And God knows this year continues to be so crazy, we need something fun like the Christmas Surprise Package to ring in the New Year and provide a little joy and laughter. With so many people suffering from the fallout of the pandemic, depression, frustration, and in some cases, money issues, they need to escape into realms of role-playing adventures and this is a fun way to do so. Not to mention the huge savings and autographs available via a Palladium Christmas Surprise Package.
A Surprise Package is your way to get physical books (and autographs if you want them) for PDF prices! $95-$100+ worth of Palladium products for only $55 (plus shipping and handling)! That can nab you four or more items when these days one core rule book can cost you that alone.
These Surprise Packages are our way of saying thank you for your support and showing you our love and appreciation. It's a surprise because you never know exactly what you're going to get or who will sign your books, because we pick from your Wish List and may surprise you with stuff you are not expecting. Extra items may include other RPGs, sourcebooks, issues of the Rifter®, novels, miniatures, prints, art books, greeting cards, T-shirts, negatives, and other items. Some books may be slightly damaged (scuffs, scratches, dings, a crunched corner, etc.) so we can send you more.
Truly the best deal in gaming, Palladium's 24th Annual Christmas Surprise Package gets you $95-$105, sometimes MORE, worth of product for ONLY $55 (plus shipping and handling), as gifts for others or for yourself. That's physical books at PDF prices. And if you want them signed we will sign each and every one of them.
Christmas Surprise Packages are not just for Christmas. Whether you celebrate Christmas, Hanukkah, Kwanzaa, or the Winter Solstice, or you are looking for that special gift for a birthday, anniversary, graduation, or any special occasion that falls between now and the end of the year, a Surprise Package may be the ideal way to go. You get a ton of stuff on the cheap, you can get a bunch of autographs (if you want 'em), and you look like you spent a fortune.
This is also a great way to try that game setting you've wondered about – Splicers®, Dead Reign®, Chaos Earth®, Palladium Fantasy®, Nightbane®, Systems Failure, Mechanoid Invasion®, Rifts®, After the Bomb®, etc. – or to get something for your favorite Game Master. Or perhaps, to get your player group to consider a new game or setting.
Your "Wish List" is vital – the Palladium Surprise Packages are designed to simulate the joy and surprise of the Christmas Season of Giving. To do this, you submit a list of 12-15 Palladium products (or more) FOR EACH Surprise Package you order. This list of 12-15 items for EACH Grab Bag is critical, because you will not know which items we will select to send you. That makes it just like a Christmas gift because it really is a surprise. Surrogate Santa, Kevin, personally hand-picks every item for every Grab Bag, and may toss in something extra like a limited edition print, or a negative, or similar collector's item, or an issue of The Rifter®, or something else he thinks you'll enjoy.
Autographed books. For those of you who want them (which are most people), Kevin and available members of the Palladium staff, and any freelancers we can lasso at the time, are happy to autograph each and every book in your Surprise Package. This is the only way many fans across the country and overseas can ever get signed books.
Send us your brief comments. There is a special form and format to fill out for Christmas Surprise Packages. It includes a place where you can offer your brief comments, suggestions, greetings and salutations.
First-timers are always nervous until they see the great value in their first Surprise Package. A typical Grab Bag has $95-$105 worth of product, sometimes more! Yes, sometimes more, for only $55 plus shipping and handling. Many people order 2-3. Some order 4-6, and some maniacs order even more! It makes sense, because it is a great way to fill holes in your own collection, treat yourself, get autographs, try new games and settings, rebuild your collection, replace worn out books, and get your gaming pals gifts you know they will love. PLEASE spread the word about this great offer.
To those of you outside the USA, the X-Mas Surprise Package is a way to get books and circumvent the damn high cost of shipping from the United States, since you are getting $95-$105 (often more) worth of product and only paying $55 plus a small handling charge. Shipping via Priority Mail International (required for packages weighing 4 or more pounds) to most locations in Europe, Canada, Australia, and many other countries is around $50-$60 US dollars. HOWEVER, because the cost of the product is so low, that's the equivalent of paying retail for the products and only $0-$30 for shipping. A very good deal. Plus you get autographs if you want them! X-Mas Surprise Packages are the way to go for those of you outside the USA. Please take advantage of it to get all those products you've wished you could get except the shipping was too prohibitive. We feel your pain. Game on!
Please spread the word. The Christmas Surprise Package is only publicized by word of mouth, on Palladium's website, and social media, so please tell everyone you know. Buy one for every gamer you know. They make astonishing gifts for every occasion. This sale ENDS January 17, 2022.
s® Ultimate Edition "Softcover" – available now
This is the Rifts® Ultimate Edition you know and love made available as a softcover edition for those of you who prefer "softcover" books. The softcover is also allowed in correctional institutions that do not normally allow hardcovers. Folks are loving it.
The usual ...
30+ player characters to choose from; tech, magic, and psychic.

Cyborgs, robot and power armor pilots, scouts, assassins, and more.

Weapons, armor, vehicles, and equipment.

140+ magic spells for magic characters like Ley Line Walkers, Mystics, Techno-Wizards, Shifters, and others.

90 psionic powers and psychic characters.

World overview, the Coalition States, and more.

Sourcebooks offer hundreds of different aliens, supernatural beings, creatures of magic, and locations for adventure.

There has never been another RPG quite like Rifts®.

376 pages – 3 color sections, 24 pages total. The softcover book is identical to the hardcover edition.

$34.99 retail – Cat. No. 800SE – available now. May be requested for the Surprise Package.
BACK IN PRINT – "Original" Rifts® RPG 30th Anniversary Commemorative hardcover – available now – still only $50 despite rising paper and printing costs – Cat. No. 800HC30 – and it looks absolutely gorgeous. This popular title sold out in only four months and has been out of print since early September. Well, it is back in stock and it is gorgeous. This collector's item sports the original Keith Parkinson cover and offers the original 1990s RPG plus an additional 32 page color section, the history of Rifts®, unpublished concept art, a gallery of all Rifts® covers through 2021, and more. Can be used with ALL existing Rifts® supplements. 288 pages – a steal at $49.99 – Cat. No. 800HC30 – Available now! Note: The limited edition is already a coveted collector's item. May be requested for the Surprise Package.
BACK IN PRINT – Rifts® Black Market™ (softcover) – available now – 5 Black Market factions including Bandito Arms – 10 Black Market O.C.C.s, new weapons, armor, vehicles, robots, robot animals, the Shadow Boy and TW Ironmage Glitter Boy variants, and more. I am so glad people are discovering this sourcebook because it is truly epic and jam-packed with useful and fun material for players and G.M.s alike. 192 pages – $26.99 – Cat. No. 886 – available now.
BACK IN PRINT – Rifts® Sourcebook One (softcover) – available now – featuring the first appearance of Archie Three, Triax Robots, a full Archie adventure, the first appearance of the Republicans (NEMA survivors in stasis), robot creation rules and other fun, groundbreaking material. The perfect companion to go with the "Original" Rifts RPG Commemorative Hardcover, Shemarrian Nation™, and the upcoming Titan Robotics™. 160 pages – $22.99 – Cat. No. 801 – Available now.
UPDATED List of RPG Hardcovers Available now
DriveThruRPG.com – Discover the Palladium Megaverse® at PDF prices – 300+ titles
- Rifts® titles. Rifts® is the ultimate setting in which you can combine any number of genres and play any style of gaming you may desire: science fiction, fantasy, supernatural horror, heroic adventure, dimensional travel, modern knights, cyborgs, giant robots, dinosaur taming, sleuthing, magic, monsters, heroes and legends. Or combine them all. There has never been a game quite like Rifts®.
- Rifts® Chaos Earth® titles. Live through the Great Cataclysm and the Coming of the Rifts. Rifts® Chaos Earth® RPG, Creatures of Chaos™, Rise of Magic™, and Chaos Earth® Resurrection™ are all available.
- The Rifter® #1-84. Each issue is a wealth of source material and ideas for Rifts® and 3-5 other Palladium game settings. Most are easily adapted to ANY Palladium game setting. Each issue is a gem. 8,500 pages of source material and ideas for heroes, villains, monsters, magic, gear, and adventure. Many issues are sold out and only available in digital form.
- Palladium Fantasy RPG® titles. This is a rich, original setting in which you can play humans or any number of nonhuman species of people in a world of magic, heroes and wonder. A world with 100,000 years of history. Some of it quite dark. All of it epic.
- Dead Reign® RPG and sourcebooks. The Zombie Apocalypse unleashed. Play ordinary people or post-apocalyptic O.C.C.s or Masked Lunatic heroes. A great introductory RPG that is surprisingly uplifting, fun, fast, and easy to learn.
- Heroes Unlimited™ RPG Second Edition titles. Create any type of superhuman you can imagine to build your own super-hero universe or those of your favorite comic books. Heroes Unlimited™ RPG first edition rule book and sourcebooks too.
- After the Bomb® RPG and sourcebooks. Create and play anthropomorphic, intelligent, mutant animals in a comic book world of crime-fighting mutants and super-heroes, or in a crumbling post-apocalyptic Earth where humans teeter on the edge of extinction and mutant animals are becoming the noble survivors to inherit our world.
- Ninjas & Superspies™ RPG and the Mystic China™ sourcebook by Erick Wujcik. Think James Bond meets Enter the Dragon. 41 types of martial arts, ninjas, and super-spies with gadgets, gizmos and advanced weapons.
- Nightbane® RPG and sourcebooks. You are the monsters ... and the heroes. Embark on a quest of self-discovery and empowerment while locked in a secret war against the Nightlords and their demonic and human minions. Monsters only you, the Nightbane, can see, but only when you transform into your inhuman Morphus. A supernatural and monstrous alter-ego that can see the invading monsters and possesses the power to destroy them. That's why the Night Princes have been assigned to hunt down and either turn or destroy every last one of the Nightbane. Trust no one. Even your parents, teachers, or friends might be wicked Dopplegangers in league with the Nightlords.
- Beyond the Supernatural™ RPG and sourcebooks. Your first step into the realm of modern horror. The RPG provides 14 character classes and 42 occupations for "ordinary people," 100+ psychic abilities, 16 monsters, the Lazlo Agency, world setting and rules.
- The Mechanoid Invasion® Trilogy RPG is a long time, cult favorite with a fatalistic worldview of humans vs aliens with superior technology.
- Splicers® RPG is like Iron Man meets Game of Thrones with elements of Terminator – except this army of Iron Men are clad in living body armor and wield living, organic weapons and devices. Created in 2004 by writer and game designer Carmen Bellaire, Splicers® was nominated for an Inquest Gamer Magazine Fan Awards Game of the Year, and has since developed a rabid fan base. Science fiction and horror where humans are forced to use genetically engineered, living weapons and organic war machines to battle an insane Artificial Intelligence and her robot legions. Unlike anything you have ever played before!
- Systems Failure RPG. A one-shot post-apocalyptic setting where humans fight and hide from enslaving alien invaders known as "The Bugs."
- The Palladium Ancient Weapons Series of real world weapons, armor and castles throughout history. Designed for use with ANY game system.
- RECON® Deluxe & Revised – by Erick Wujcik and others. Vietnam era RPG and more.
- Erick Wujcik's "Lost first RPG" Sector 57. It is Erick Wujcik's very first RPG (1980, self-published) – a tournament game, actually. I played it way back when with Erick and it was fun. I think you will enjoy it, and it is a fun piece of history. ALL proceeds go directly to the Wujcik estate and probably toward the education of Erick's beloved grandchild, Tristan. As most of you know, Erick would go on to write the Teenage Mutant Ninja Turtles & Other Strangeness RPG, Ninjas & Superspies RPG, Amber Diceless, and contribute to a number of other RPGs and sourcebooks.
- 300+ Palladium titles in all, plus G.M. kits, paper miniatures and more. Palladium Books has settings for every genre: Fantasy RPG, science fiction (Rifts®, Splicers®, and The Mechanoids®), super-heroes (Heroes Unlimited and After the Bomb), superhero horror (Nightbane®), modern horror (Dead Reign® and Beyond the Supernatural), plus The Rifter® sourcebook series (by fans like you), novels, paper minis, and more. And more to come in the weeks ahead.
Closing Thoughts
We cannot wait till the New Year arrives because we believe it will be the harbinger of a new era of greatness for Palladium Books. I have been building a plan and working at rebuilding and strengthening Palladium Books. Now it's show time with continuing big moves like bringing in Sean Owen Roberson as my Creative Director and business partner, and putting new releases into your hands. Our new policy is to not over-promise or present release dates until we know the book is done and will soon ship, so no details quite yet.
That said, I can tell you the next several new books coming your way, in no specific order, will be:
I wish I could tell you more about the Palladium Fantasy RPG®, Rifts®, and other titles we have in the works (some utter secrets), but you'll have to wait until they are completed and at the printer later next year.
Enjoy the Surprise Package comments from your fellow gamers, below, grab a Surprise Package while you still can, or a Rifts® 30th Commemorative or other books, and start the New Year off right gaming away! Seriously, stay strong, find ways to escape and blow off a little steam, and try to stay positive and creative. Happy New Year! May it be a calmer, less crazy, less virus filled, and more prosperous one for us all. Until next year, be frosty and game on.
- Kevin Siembieda, Publisher, writer, friend, and surrogate Santa Claus for another couple of weeks – ho, ho, ho
Surprise Package comments from fans like you
Every year there is a section where our Surprise Package customers can offer comments and suggestions with their order. We do so because we want to know what you think, and what you want, and we appreciate your suggestions and insights. The idea to do hardcover editions of core books came from fan comments in the Grab Bags.
Every year, in acknowledgment of our fans, and because they are fun to read, we offer a sampling of these comments in the Weekly Updates. Our heartfelt thanks to all of you who have stuck with Palladium through thick and thin and now these new strange times. Please use our games to find escape from the pandemic and other worries. Use them to bring a little joy, laughter, and adventure to the holiday season.
I want you to know that your comments and support mean the world to all of us. Everyone at Palladium enjoys reading your brief comments and they always brighten our day. Thank you for making us smile and feel useful. As always, I have tried to write a short response [in brackets] to each comment. Happy holidays. – Kevin Siembieda, that Publisher guy.
A.W. in Oxford, Ohio, writes: I've been a fan since 1991 or 92 and I've been running the same Rifts® campaign since high school, over 25 years! Always satisfied with your writing, art and dedication to role-playing. Thanks for all the years of amazing creative gold! And Merry Christmas from a long-time fan.
[Ditto, A.W., thanks for the years of support. Thrilled you love our games so much, particularly Rifts®. I hope your Christmas was filled with laughter and joy. Keep your imagination burning bright and happy New Year. – Kevin]
J.C. in San Fransciso, California, writes (in part): ... me and my group of friends are long time gamers of the Palladium Megaverse®. From Fantasy to Rifts®, Heroes Unlimited and Robotech®, we have played it all and have always had a great time! ... We love the concepts, the artwork, the stories, the open, endless ideas and imagination that we can put into our campaigns! It has been a long time since we have actually played, and we are looking forward to sharing old memories and laugh, and creating new memories and adventures that we can talk about for years to come ... Thank you and happy holidays to Kevin, the staff, and everyone over at Palladium Books! And a happy and prosperous New Year.
[Ah, yes, the endless ideas limited only by your imagination. I'm glad you get it, J.C., and have enjoyed decades of adventure. Thank you for sharing. Keep those beautiful memories and friendships alive while making new ones. Happy New Year! May it be a safe, happy and prosperous one for us all. – Kevin]
R.H. in Tonawanda, New York, writes: Hi Guys! This is my second year doing this [Surprise Package] and I've been looking forward to it since my box arrived last year. Not only is it a great bargain, but I look forward to the surprise factor almost as much as the books. Thank you so much!
[I love these kinds of comments, R.H., because I try hard to make each Surprise Package special. I hope you enjoyed this one just as much. For those of you who have still never tried one, there is still time to see what the fun and excitement is all about. We extended the Surprise Package offer till January 17, 2022. – Kevin]
J.K. in Lake Park, Iowa, writes: I just want to thank everyone there at Palladium, past and present, for all the decades of enjoyment I have gotten. I started with Teenage Mutant Ninja Turtles® & Other Strangeness back in 1988, and just expanded to the other games over the years. My favorite gem is Rifts®, and has been since I first got a copy of it the year it was released. Happy Holidays to everyone there.
[J.K., we are pleased our games have brought you so many years of enjoyment. Awesome. We expect to bring you many more. – Kevin]
D.H. in Walla Walla, Washington, writes: Thank you for that Voodoo, you do so well.
[Sean calls it Palladium's "secret sauce," D.H., and you can count on the magic continuing. – Kevin]
V.D.S. in Pittsburgh, Pennsylvania, writes: Been a huge fan for many years. Love your products and your company. And love the direction you are heading. I look forward to the future.
[Thank you V.D.S., I could not agree more. We are on the right path and the future that is about to be written shall be glorious. Happy New Year. – Kevin]
W.M. in Winnipeg, Manitoba, Canada, writes: Rifts® always Rifts®! And other [worlds] that can be traveled to because of the Rifts. Recently the Phase World® setting has caught my attention.
[We appreciate the kind words W.M., and think you will enjoy the Phase World®/Three Galaxies setting just as much. Live long and prosper. – Kevin]
J.L. in Pearland, Texas, writes: I've been a fan of Palladium for 30+ years. I still have a lot of my original books and have gotten reacquainted with the Rifts® Megaverse®. Thank you for keeping one of my favorite fantasy worlds alive all these years.
[You are welcome J.L., but I have to keep it alive. You see, Rifts® is my favorite setting to write for, and our biggest seller, and I still have many stories to tell in that Megaverse®. I can't stop! Must write more and wow the fans. As you will see throughout the New Year and the years ahead. – Kevin]
C.T. in Carlisle, Pennsylvania, writes (in part): Hello and Happy Holidays Palladium Crew! Hey thank you all again for another fun year, and, of course, for doing the Holiday sale. This is something I look forward to each year. It really is comforting to know that you all are still publishing new material and keeping us current on the existing material. My list this year is totally focused on Rifts® ... Honestly, whatever books you all add will be a great surprise ... Thank you again, and I look forward to another great year!
[Hey C.T., thank you for the nice comments. I think you'll be quite pleased with your Surprise Package. We are shooting to make 2022 a memorable year and 2023 even more so. – Kevin]
W.B. in Buffalo Grove, Illinois, writes (in part): Getting back [into RPGs] after a decade or two away from gaming. My kids are old enough that I can start playing again ...
[Welcome back W.B., the Surprise Package is a great way to get reacquainted. Enjoy and game on! – Kevin]
J.G. in Valparaiso, Florida, writes: Favorites: All so far. Are you coming out with a book of gadgets for Heroes Unlimited?
[Keep enjoying our games, J.G. Rifts® and Fantasy are also two of my faves. No gadget book coming for HU anytime soon. – Kevin]
D.H. in Leesburg, Florida, writes (in part): Favorites: Heroes Unlimited, Rifts®, Chaos Earth®, Beyond the Supernatural. Heard a lot of things about the dark City of Cascade and looking forward to checking it out [in The Rifter® #84]. And definitely looking forward to Titan Robotics release. Shemarrian Nation is one of my faves.
[Hey D.H., Cascade is inspired by the unfinished work of Erick Wujcik. Titan Robotics will not disappoint. – Kevin]
J.M. in Glenns Ferry, Idaho, writes: I'm super-excited about the Rifts® 30th Anniversary Hardcover. I still remember when I first saw the Rifts® RPG at my gaming store as a teenager. It really opened my eyes to the possibilities of RPGs. Until then I had been pretty stuck on dungeon fantasy, super-heroes, and space opera. But here was a gem with truly unlimited possibilities. It is still my favorite RPG because you can use it to tell literally any story and pull inspiration from anywhere.
I've always loved Palladium Books, but I have to say your excitement is catching on. I'm more thrilled with Palladium than I have been in years. So happy the Rifter is making a return [as a 200+ page Annual] and everything you've announced has got me stoked. I'm looking forward to Palladium's future, so best well wishes, good luck, and God bless to Kevin, Sean, Kathy, Wayne, Alex, and everyone else.
[What a nice comment, J.M. It has taken me a long while to get Palladium back up to fighting weight and strength. With Sean onboard, among others, I think we are going to be able to release a number of titles people have been long awaiting. After that, be prepared to be wowed and excited even more to the endless possibilities of Palladium Books. May the New Year be a great one for you, J.M., and us all. – Kevin]
G.H. in Tilton, Illinois, writes: Getting ready to start a few new campaigns (Chaos Earth® and Rifts®), so anything to help flesh that out will be great. Always been very pleased with the Grab Bags in the past. Hope you all have a good holiday season. Looking forward to the release of The Disavowed and the new Chaos Earth books in the future!
[Have fun with those campaigns, G.H. As for the books you mentioned ... you know what, you might just see them later next year. Game on! – Kevin]
B.S. in Roscoe, Illinois, writes: Love Rifts®. Cannot wait for Antarctica.
[You and me both, B.S. I think it is a pretty great book and nearing completion. – Kevin]
J.F. in Round Rock, Texas, writes (in part): I have loved your games since I started with TMNT® and Heroes Unlimited, and once I was introduced to Rifts®, I was hooked. I knew my RPG experience would never be the same. Thank you to the whole staff for such dedication to a game line that literally is only limited by the imagination.
[Your affection for our work, J.F., is clearly heartfelt and genuine. I am happy to say more big things are coming throughout the New Year. – Kevin]